Metamorphic Rock Classification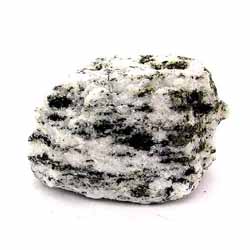 Metamorphic rock is classified by texture and composition. The texture can be foliated or nonfoliated.
Foliated metamorphic rock
Foliated metamorphic rocks appeared banded or layered. Foliated rocks can be ordered in terms of increasing metamorphism. In the chart below notice how each of the first three rocks become the parent rock for the next. In each of these it takes more heat and pressure to to move to the next level of metamorphism. This is called degree of metamorphism.
Nonfoliated metamorphic rock usually contains one mineral. It is uniform in texture.
Texture-Grain Size
Grain size is an important characteristic of texture.  It ranges from very fine to coarse. The metamorphic rock classification chart below may help you make sense of the many different types of rock.

Classification of Metamorphic Rocks

Name of Rock

Parent Rock

Texture

Grain Size

Notes

Slate

Shale, mudstone, siltstone

Foliated

very fine

smooth dull surfaces

Phyllite

Slate

fine

glossy sheen

Schist

Phyllite

medium to coarse

micaceous minerals

Gneiss

Schist, granite, volcanic rocks

medium to coarse

mineral banding

Marble

limestone

Nonfoliated

medium to coarse

Interlocking calcite or dolomite grains

Quartzite

quartz sandstone

medium to coarse

fused quartz grains

Anthracite

bituminous coal

fine

black, shiny, organic rock
Metamorphic Rock Formation
Examples of Metamorphic Rocks
Metamorphic Rock Collections For Sale