Rocks And Minerals Blog
Welcome to The www.rocksandminerals4u.com Site Blog. Here you will find the newest additions to www.rocksandminerals4u.com, including lesson plans and student activities on rocks, minerals, and earth science.
There are distinct advantages to blogging.
First, by subscribing the blog is delivered to you. No need to search the web or your bookmarks. If you have an rss reader installed on your computer that's where you will find your updates. No rss reader? No problem, Yahoo and MSN both offer free RSS services.
Subscribing requires no personal information. Not even an email address. No spam!.
To subscribe to the rocksandminerals4u.com Site Blog find the orange rss button under the navigation bar on the left and right click on it. If you need more information click on the text that says, "What's an RSS feed?
Each blog entry has a headline with 1 or 2 lines of text and a link to the full text. This makes it very easy to scan for the topics that interest you the most. Welcome to Blogging!
Oct 10, 2021
Earthquakes and Plate Techtonics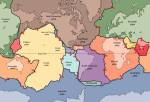 What Does Earthquakes and Plate Tectonics Have to Do With Each other ?